About Us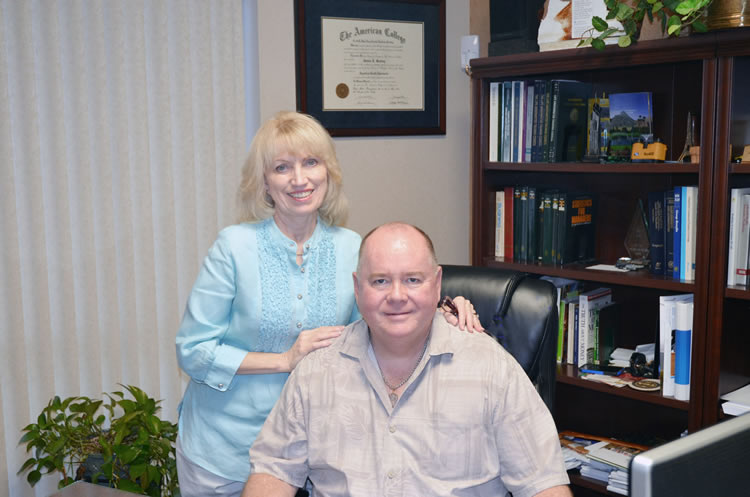 Space Coast Insurance Advisors, Inc. was founded in the spring of 2005 by Jim and Roberta ("Bobbie") Bentley. This agency is independently owned and locally operated. While concentrating on Brevard County, high quality, affordable and reliable insurance choices can be placed all across Florida.
"Bobbie and I have in excess of 40 years combined experience in the insurance industry; I'm originally from Michigan, but our careers began in Ohio" Jim explains. "We retain a number of designations, signifying our pursuit of industry-specific education and recognizing our commitment to ethical business practices. We provide pragmatic insurance advice using recognized, highly-rated companies. Our local office enables one-on-one consultation to place then ensure our promises are kept when an unexpected loss occurs. Our reputation and integrity are of top-most importance and it is so important our clients know and understand exactly what they are getting for their premium."
"Our agency is growing at an unprecedented rate because we do business so differently than most. We critically evaluate all aspects of a policy to make suggestions on how to be more cost-effective. Bobbie and I endeavor to earn the ongoing privilege of serving you, your family, and your business for all your insurance needs. We would like to speak with every single resident to apply for the position of insurance advisor! Thank you!"
The son of a Ford Motor Company middle-management executive and a school administrator, Jim grew up outside Detroit, Michigan. He attended Michigan State University and after college worked 5 years in the television industry in master control and as a producer of TV commercials. In late 1989, with the Michigan economy so tightly entwined to the auto industry in shambles, Jim moved to Columbus, Ohio in search of a better (and warmer) life. "Columbus is a big insurance town– Nationwide and several other insurance companies are based there" shares Jim. "I wanted to get into sales, where I would be compensated based on how hard I worked since I tend to exhibit workaholic traits. I found a company with a major office in Columbus that offered training and a base salary– Sentry Insurance of Stevens Point, Wisconsin. I started in personal lines and eventually expanded into commercial, group health, life, and retirement plans. I knew virtually no one in Columbus, but I mustered the audacity to continually cold call both in-person and (in an era before widespread cell phone use) on the telephone. Desperation (and poverty) can be a huge incentive! I built an enormous book of business and have the distinction of probably insuring more dry-cleaning chains than any other agent in Columbus– 17 of them, many with multiple locations. I insured machine shops, plastics manufacturers, hardware stores – and I also did the owner's auto & home insurance as well as most of the employees. I found my calling in life and consistently led my division in sales, attaining the highest honors awarded by the company. But I didn't own my book of business or my own agency and after 10 years I was pushed out of the company because I made so much money in renewals and the company was poorly managed. In fact, I've heard they let all of their employee-agents go. I guess in hindsight I was among the first when that company began their purge."
Jim continues: "Upon a referral, I ended up at the largest, most prestigious independent agency in Columbus. They hadn't hired a producer in 12 years but I had documentation of my success and they decided they really wanted me. The owners promised me the world, but after nearly 5 years and again, tremendous success– they pushed me out and sold the agency. I told Bobbie– we gotta get on the other end of this gun, because when it goes off, we get hurt badly. We decided to either purchase an existing agency or start our own. It was at this time I had a profound epiphany– why not do it in Florida? I'd wanted to live there since I was 5 years old. Auto and home premiums were far higher than in the midwest. My parents lived in West Melbourne and we absolutely loved Cocoa Beach. I started talking to State Farm, Allstate, and Nationwide. Allstate had the best compensation but most importantly, allowed me to broker to other companies for homeowner's insurance. State Farm and Nationwide weren't doing this. I owned the homeowner's book of business and also owned an economic interest in my Allstate auto book of business. We opened a brand new Allstate agency in 2005 and roared– we wrote 400 vehicles a year in each of the first 3 years in business and an equivalent number of homeowner's policies. But then Allstate brought in a new CEO and things began to change. Auto rates increased dramatically. We lost good customers. New sales eventually fell to around 120 vehicles a year and there were other changes I did not agree with within the company. After 6 years with Allstate, my patience wore thin and I saw other long-term Allstate agency owners heading for the exits. We decided it was time to turn completely independent, brokering to multiple auto insurance carriers like we do for homeowner's insurance. I soon realized we should've done this a long time ago! We've been completely independent since December of 2011."
Jim met Bobbie in an insurance class in 1991 and soon they became an "item". She has many, many years of experience in underwriting and customer service for several major insurance carriers. Bobbie: "I had complete confidence in Jim when he floated the idea of opening our own agency. He's a real go-getter and knows so much about insurance– he has a unique ability to share minute details about a policy in everyday laymen's terms. I pick up on the service end for our clients and complete mortgagee changes, vehicle additions, and such. I can see at some point we'll need to hire an additional Customer Service Rep to help with our ever-expanding book of business we are building." Jim elaborates: "Bobbie really is the key to our success; her warm, caring empathy and effervescent personality is the perfect fit for our clients as well as the public. She really knows how to research and solve issues and problems. I couldn't do this without her. I am so very grateful to have her as a business and life partner."
Jim and Bobbie now maintain several desirable and difficult-to-procure appointments with high quality, highly rated carriers.
Insurance Tailored For You
We invite you to complete an online quote or contact us at jim@insuranceadvs.com, but undoubtedly it would be best to call us at 321-784-2300 to review coverage options for auto insurance, home insurance, life insurance, personal umbrella insurance, business insurance, commercial insurance, renters insurance, boat insurance, motorcycle insurance and more. We provide free, no hassle, and no obligation insurance quotes to help you make an informed insurance decision.
Affordable, Reliable Insurance Choices
Space Coast Insurance Advisors, Inc. strives to offer you quality insurance coverage, a high level of professional service, and a long-term relationship. As independent agents, we'll research rates and coverage from top insurance companies to find the best insurance rates and insurance plans for you. We do the insurance shopping and comparing for you to save you time and money!
Call for a quote today at 321-784-2300.
Agency is licensed in the following states: Florida
Need an insurance quote? Get in touch!
Access quotes from Florida's most trusted insurance carriers. It's comparison shopping at the click of a mouse.